On the go or off the grid, everyone needs a convenient way to heat water. An outdoor water heater is the perfect solution for camping enthusiasts, frequent road travelers, and anyone else who needs an easy to use, goes-anywhere way to stay clean and comfortable.
Whether you're temporarily nomadic by choice or out of necessity, you need a portable source of hot water when...
* Mobile vacationing in your RV, trailer, camper, or van conversion
* Loss of electricity due to a natural disaster or other emergency
* Trying to save the cost of lodging on cross country road trips
* Using a mountain cabin or beach house a few times per year
* Enjoying a minimalist, tiny home lifestyle
Adjustable Temperature Showering
When it comes to showering after a day of outdoor activities, riding the open road, or enjoying the simplicity of a back-to-basics lifestyle, the last thing you'd want to experience is a blast of cold water.Fortunately, there is a way to have convenient, instant access to warm water wherever you go.You can set it to your comfort level, and easily adjust the temperature for different scenarios:
* Rinsing off the sand and surf after a day at the beach
* Washing the mud off your rambunctious, puddle-hopping kids
* Removing that post-fishing funk
* Hosing off the corrosive grime from your boat, car, RV, or motor sport vehicles
* Bathing your beautiful show horse or dog far from home
Each Eccotemp L5 and Luxe model portable propane water heater comes equipped with a shower head for easy setup.You can quickly access on demand heated water after hooking the portable water system up to a 20-pound propane tank and water hose and attaching it to your structure or vehicle's exterior or to a nearby post.
You can also bundle any Eccotemp L5, Luxé models and L10 portable hot water heater with an EccoFlo 12V Pump and Strainer allowing you to have pressurized hot water in the most remote locations.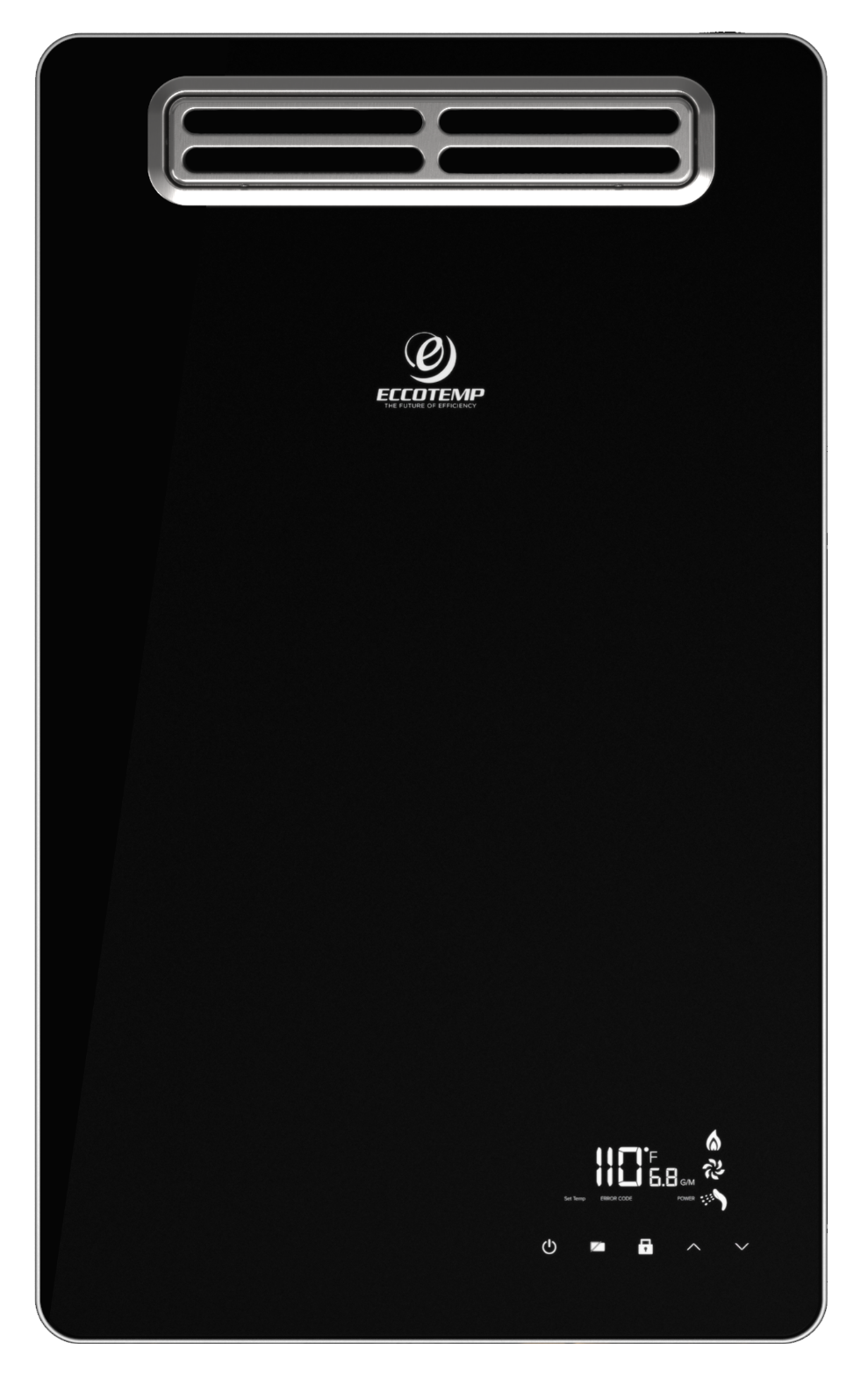 How it works
Unlike a traditional tank style water heater, a tankless water heater only heats water that is passing through it. When the flow of water stops, the heater shuts off. That way, you only heat the water when needed. A portable water heater takes that concept a step further, heating water where you need it.
Here are a few more benefits of Eccotemp's portable tankless water heaters:
No Venting: L5, Luxé, and L10 models are made for temporary outdoor installation and don't require venting.
No Electricity: These water heaters run on regular household batteries you can find at any store ("D" cell or "AA" depending on the model) and standard 20-pound propane tanks. No hard-to-find or proprietary batteries.
Easy Carry Convenience: They are lightweight and easy to transport wherever you go. The L5 and Luxé models even come with carrying handles.
User Controlled Temperature: With a simple twist of the dials, you can set the temperature anywhere from 50 to 120- or 140-degrees Fahrenheit.
No Faucet? No Problem: If you're setting up camp in an area that doesn't have access to a water spigot, you can even pump from a nearby body of water like a lake or stream or a portable water source to your portable water heater using the EccoFlo 12v Water Pump and Strainer.
And Best of All, Your Water Heater Is Completely Portable: It's not permanently attached to one location. No complicated installation or permanent modification of your property or vehicle.