Portable Camping Shower
After a long day on the trails, you may return to your campsite sweaty, dirty and wanting a nice hot shower. Your outdoor adventures can be a little more civilized by adding the convenience of hot water. The Eccotemp L5 is a portable tankless water heater that can make your wilderness adventure more comfortable and relaxing.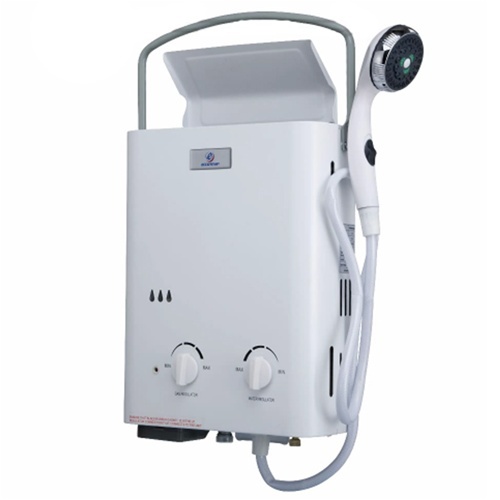 The L5 ignites using two "D" batteries and runs on a standard 20lb propane tank. The unit weighs only 13.8lbs and has a handle so it is very convenient to pack and carry. You can mount the water heater on a tree or a sturdy post for use. The shower head and 6' stainless steel hose that are included are excellent for that hot shower while camping. The L5 provides endless hot water so everyone at your camp can enjoy this simple luxury!
Using a 12v pump like the Flojet 2.6GPM 50PSI Pump can provide you with the pressurized water flow that is needed to ignite the Eccotemp L5. So if you are drawing your water out of a storage tank or a lake you are still able to use the L5 - perfect for remote areas or campsites. Using the Flojet strainer with this setup will prevent any dirt or debris from running through the pump and water heater.
If you are camping for more than a couple days, you're going to wish for a good soak at some point. So instead of wet wipes or that brief, cool dip in a river or a lake, try the Eccotemp L5 and you won't regret it!