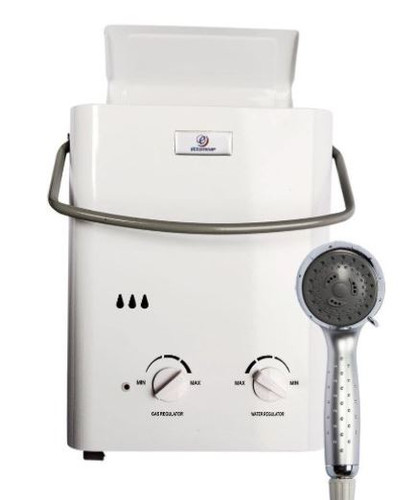 How many ways can you use your Eccotemp L5 you ask? Oh the possibilities are ENDLESS!
The portable L5 model so versatile that it can be used virtually anywhere. Its powered by D cell batteries, allowing it to be used on the go without the use of a power outlet.
You can use it to set up your outdoor shower, wash your car, wash your dogs, pressure wash your house, even bath your horses. They are even being used commercially on food trucks and food carts. Its capability of heating water of to 140 degrees can give you hot water when you need it, anywhere.
The unit comes with a stainless steel showerhead and hose making it even easier to use on the go.Simply have a propane tank ready and your all set.
Lets listen to what some other Eccotemp L5 users have to say about it :
Works Like Magic, April 2, 2014
By
Chad_Hollywood
I installed this unit in the middle bay of my 40' greyhound bus. Hott water works great. I use very low pressure to conserve water and have no problems with the hot water heater. This would work in any RV or bus application. The unit is on demand hott water and works great. The water heater produces a continuous flow of hot water without any fluctuations in temperature.
Excellent product, March 3, 2014
K Watson
Does exactly what it says! I'm delighted with my product and highly recommend to anyone especially horse owners all year round
Bring on the hot water, January 26, 2014
By
Anne
We have had this for over a year now and it works FABULOUSLY. We have a house that has no electricity and when we camp out there, this unit gives us endless hot water - better than at our main home. It installed easily. It is easy to maintain. When we leave and lock up, it comes off the wall and packs away, quickly. And, nothing is more satisfying than coming home after a day in the ocean and everyone being able to wash long hair and still there is plenty of hot water for the next person - all without fuss. Instead of drawing straws for the hot water, we can sip on cocktails and take turns without a care!