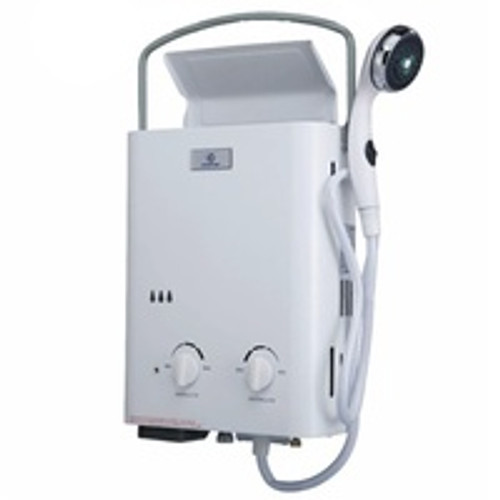 Our L5 Portable Tankless Water Heater is the original, and best-selling portable water heater on the market to date. With the L5, you instant, endless hot water wherever you are. This model is ideal for use at campsites,hunting lodges, emergency applications, cabins, or even around the house. The L5 model is also great for washing your car, boat, or washing pets or livestock.
The L5 is rated at 1.5 gallons per minute, and requires 2 "D" cell batteries for ignition-which makes it a great addition to any off-grid setting, or areas where electricity is not readily available. This model requires a minimum flow rate of 1/2 gallon per minute to ignite and operate, and has adjustable manual water temperature knobs to set the unit for 80 to 120 degrees for your outgoing water temperature.
The L5 includes a CSA regulator (for use with your standard 20 pound grill propane tank), garden hose adapters that will fit to any standard garden hose style nozzle, as well as a shower head with an on/off control and 6 foot shower hose. The L5 Tankless Water Heater is rated at 37,500 BTUs, and is an outdoor-only, liquid propane unit that includes a one year warranty.
To see some of the benefits of our L5 Tankless Water Heater in action, please see the video below.