Winters can be harsh and bleak. However, the cool temperatures and stillness in the air make winter camping fun. Since most people avoid camping in the cold, you can have the campground all to yourself!
With the right camping gear, winter camping can be an experience you will remember for the rest of your life.
The Ultimate Guide to Winter Camping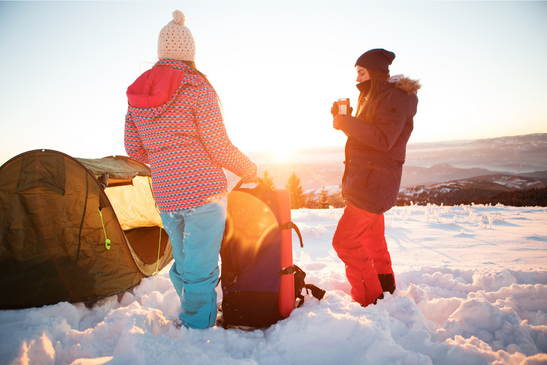 1. Pack Dry Thermals
With the temperature so low, it is vital that you change into your dry thermals as soon as you get out of your shower tent. This will ensure that even when the moisture from your body evaporates from the base layers, you do not feel cold.
Your body exhausts its energy reserves to warm up in harsh weather conditions. This could result in weakness, fatigue, and disturbed sleep. Thus, it is important to take precautionary measures to prevent the body from falling below the optimal temperature.
Look for base layers with a good warmth-to-weight ratio that is breathable enough for you to sleep in as well. A great option is the Helly-Hansen Base Layer Crew TopC, made from 100% polypropylene. Not only is it light and breathable, but it also contours perfectly to the shape of your body.
2. Choose a Pitch for Your Tent Wisely
Before choosing a pitch, inspect the ground thoroughly and look for any buried snow or watercourses. Don't pitch your tent in a spot where windblown snow will pile up and stay away from avalanche sites.
You might think that pitching your tent underneath snowy trees will get you aesthetic pictures, it is not only untrue but also unsafe. Don't do it- the branches and snow could easily fall on you during the night.
Moreover, rather than using tent pegs in a frozen area, thread a long stick through a pegging loop and bury it in the snow.
A portable tent heater, such as the Mr. Heater Portable Buddy, is a great idea to keep your tent warm and cozy throughout the cold nights. The best part is that it is just over 10 pounds, making it super easy to carry in your backpack.
3. Get a Portable Hot Water Heater
Hot water is a luxury when you are camping outdoors in the winter. A portable water heater goes a long way in keeping you warm and comfortable in bleak temperatures.
The Eccotemp Luxé 3.0 GPM Portable Outdoor Tankless Water Heater (EL10) gives you hot water when needed, making it a game changer for outdoor camping showers, washing down equipment, cleaning up dishes in your outdoor kitchen, and more.This portable shower for camping is simple to set up and use - just connect to a standard 20 lb. propane tank and water hose. The electronic ignition is powered by 4 "AA" cell batteries, making it perfect for off-the-grid camping sites where electricity is scarce. The best part is that the EL10 is compact, lightweight, and portable, making it easy to travel with and store.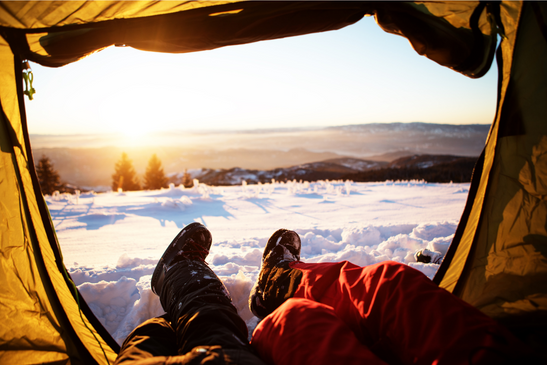 Conclusion
To make the most of your winter camping trips, ensure you have the appropriate gear to staycomfortable and warm. Use these tips to execute the best camping trip with your loved ones this winter.