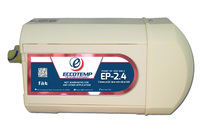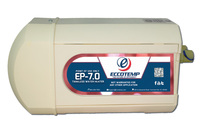 The Eccotemp EP-2.4 and EP-7.0 Electric Tankless Water Heater Boosters help provide endless hot water when added in line after a traditional storage tank water heater for low flow applications. When your traditional storage tank water heaters starts to run out of hot water the Eccotemp EP-2.4 Electric Tankless Water Heater Booster kicks in! The Eccotemp EP-2.4 Electric Tankless Water Heater Booster can also be used as a Point-of-Use single application for a kitchen sink, bathroom sink, utility sink, washer, or any other single low flow application where hot water is needed.
The patented mixing chamber provides a ready supply of heated water, virtually immediately and the mixing heat exchanger eliminates the potential for scalding. Designed for low flow fixtures and high efficiency appliances quickly sensing flow and providing hot water in seconds.Eccotemp EP-2.4 Electric Tankless Water Heater Booster mounts horizontally or vertically for maximum flexibility and is ideal for use at sinks and is designed for use in preheated water applications including gas tankless, heat pump, solar and geothermal water heating system.
Not only do these units bring you hot water, at a much faster, convenient speed, they are also energy efficient, yielding a 96%+ thermal efficiency rating. Our EP-7.0 uses 240 volts, and our EP-2.4 model is rated at 120 volts-which still gives you ample savings in utility costs. Both of these booster units are able to be easily installed, includes standard 3/4" NPT plumbing connections with no flow restrictions, temperature-detected flow, and self-diagnostics-including leak detection shut-down. Also, due to them being no larger than 15'' x 6 1/2'' x 7 1/2'', this makes our booster units a must-have for any household, cabin, or even an RV! Check out the links below to find out more information about our new electric tankless water heater boosters.
http://www.eccotemp.com/eccotemp-ep-2-4-electric-tankless-water-heater-booster/
http://www.eccotemp.com/eccotemp-ep-7-0-electric-tankless-water-heater-booster/