At Eccotemp, we want to ensure that every customer's needs are met. We have recently partnered with a financing, buy now, pay later company called Bread. Through our partnership with Bread, we can provide customers with a checkout option that works within their budget. If you have never used Bread before, continue reading to learn how to easily checkout and find your monthly rate on our website.
When shopping on Eccotemp.com you have two options when you begin your checkout with Bread.
1.) Shop our site and add your product to you cart like you normally would. When you open your cart to continue along the checkout process, you will see a red button directly above the normal, black checkout button, that states 'As low as…' (your monthly payment will vary based on the rate you qualified for and the water heater that you are purchasing). When you click the red button that displays your monthly rate a pop up will display (see image A below). From here you will follow the directions in the pop up to complete the short form and learn if you qualify for our financing options.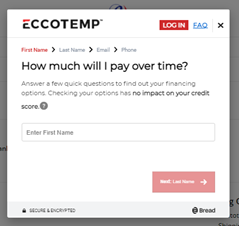 Image A
2.) Your second option for checking out with Bread is by starting the application process directly from the product detail page. When you open the page to a single, specific product, you will see on the left side of the screen, a black Add to Cart Button, and directly under that, a red button that states 'As low as…' (your monthly payment will vary based on the rate you qualified for and the water heater that you are purchasing). To checkout with Bread, you will select the red button directly on the product page without adding the product to your cart first (see Image B below). After selecting the red button, a pop up will display with a short form for you to complete to see if you qualify for financing (this is the same form that would appear if following the checkout process in step 1).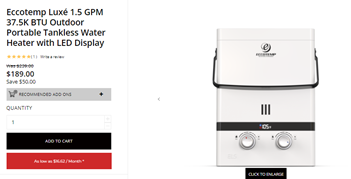 Image B
Here is another scenario where Bread can come into play when completing the checkout process.
As an example, let's pretend that you are trying to purchase your water heater that costs $800, and you qualify for a $500 loan. You are still able to choose your loan options and complete the transaction for the remaining $300 with your debit or credit card.
Benefits of Bread
Some of the benefits of using Bread are obvious, but here are a few more reasons why checking out with Bread can be beneficial.
1. Pricing is Straightforward. When using Bread, all terms are simple and transparent. They offer no prepayment penalties and no deferred interest.
2. Simple Application. Some financing companies require completion of a lengthy, complicated application to be approved for financing. With Bread, the application process on the website is simple. Within minutes, you can have your rates after only entering a few pieces of information. The application is simply a soft pull to check your eligibility
3. Payments are Automatic. You choose to sign up for automatic payments with Bread and have flexibility to change your due date if needed.
4. Bread is Not a Credit Card. With Bread you will always know how much you need to pay. There are never any surprises when using Bread, which may be present with a credit card.
5. Bread is Secure. When checking out with Bread, there is never any need to worry about the safety of your information. Data is encrypted in transit and at rest.


Some customers may be asked to call into Bread member support so that a manual identity check can be performed.

*Bread® pay-over-time plans are loans made by Comenity Capital Bank.